I remember when I was a kid, I used to be sickly and a frequent visitor in the hospital. I hated drinking medicines because then, they all tasted yucky and made me vomit. A time came when I had to pretend I drank them religiously but my dad caught me hiding the meds in a secret pocket under the huge Narra wooden table.
When I became a mom, of course my fears included repeating the same situations and mistakes but luckily, medicines and supplements these days have different flavors to suit the children's taste buds. I'm glad the pharmaceutical companies thought of this brilliant idea of making flavored syrups especially. I can't say the same with most tablets and capsules though but happy that my teenage son can take the awful taste.
Last year, a new vitamin C product was introduced by Unilab, the biggest pharmaceutical company in the Philippines namely VitaPops.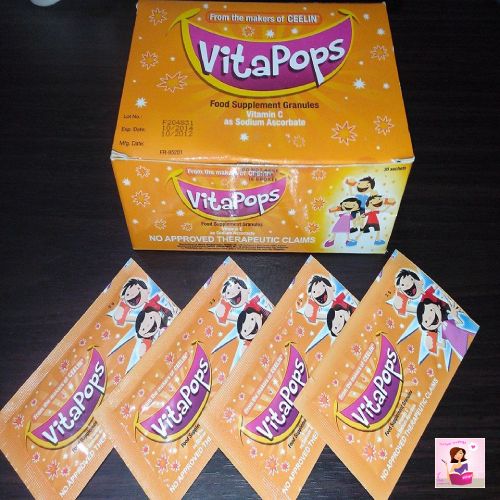 About VitaPops
VitaPops is the first and only pop rocks Vitamin C in the country
Moms are assured that they can give both healthy and fun to their kids
It comes in Sodium Ascorbate form of Vitamin C so it is tummy-friendly and can be taken on an empty stomach
It contains only 1/5 of the sugar content of normal vitamins preventing tooth decays
It comes in single dose sachets which make it convenient for moms to give to kids. It can even be given as part of their everyday "baon."
Only Php10 a day
For children as early as 4 years old to 12 years
Safe and FDA approved
1 VitaPops sachet contains 50mg of Vitamin C which like giving 5 glasses of milk or 28 pieces of Calamansi or 1 1/2 glasses of freshly squeezed orange
Available in drugstores nationwide
My 6 year old has been taking VitaPops for over a year now. My teenage son decided it's time to switch to Ceelin Chewables. I never had a problem with the little one taking these pop rocks because every single time he loves taking err eating them. The popping feel and sound is one of his "happy moments" every morning and he never missed a dose since.
You should try it with your kid. Let medicine drinking time a fun and enjoyable routine with your children. I'm sure they will love it!
Here are a few more product reviews I did with Unilab. Hope this will sway you in trusting them too:
Ceelin Plus – Your Child's Defense Against Sickness
Rainy Season Protection for Your Kids – Unilab Products
Boost Your Immune System with Conzace!
Make the Switch to Swish Mouthwash
To know more about the company, please visit them at:
www.unilab.com.ph
www.facebook.com/unilab
www.twitter.com/unilab_ph
www.instagram.com/unilab
www.youtube.com/user/unilabph
Contact Details:
Email: info@unilab.com.ph
Phone: (02)8581000
* Disclaimer – This post may look like advertising to some but we do use the product/s mentioned above.
I received no compensation for this publication apart from the review products sent by Unilab. Opinions/reviews expressed on this post are 100% my own and may differ from those of yours. For detailed disclosure please read it HERE.
For questions, REVIEW opportunities or to be featured on this blog, please Contact us at reviews@eihdragatchalian.com or you may use our form here.
Hits: 251