I'm a sucker for anything fashionable and yes, shiny. But you can't call me a magpie because I don't steal, lol.. You know, a bird specie who likes all things shiny and steals them, put them in their nests..
Anyway, here's a new post about my new "shiny" fave, the Waterproof Rhinestone Alloy Quartz Multi-Movement Wrist Watch I got for review from tmart.com.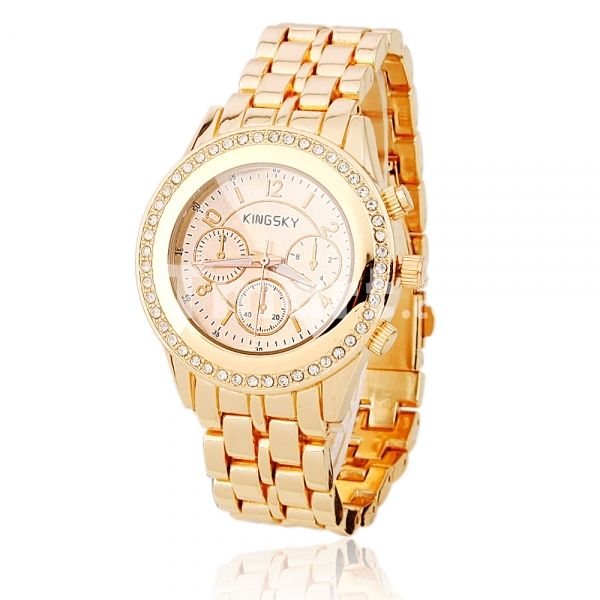 But first some details about the product:
Features
SALE PRICE: $15.28; REGULAR PRICE: $31.99

Made of first-rate material, durable in use
Three-eye design makes it slap-up and functional
It ensures precise and punctual timing
Steel watchband is sturdy and comfortable to wear
High crafted finishing and polishing, which show your charm incisively and vividly
With rhinestone inlaid, this watch seems more elegant and graceful
Also a nice choice for decoration
The precise decent watch is very charming for all occasions
My Verdict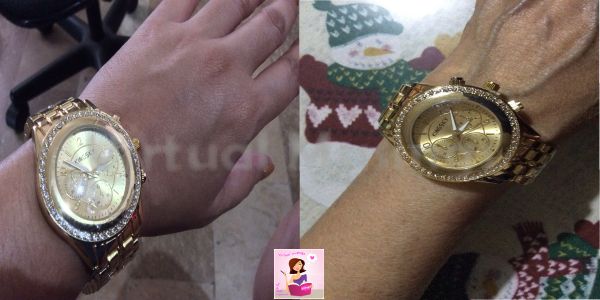 Of all the watches I've reviewed from Tmart, this Bronze Pink Waterproof Rhinestone Alloy Quartz Multi-Movement Wrist Watch by far is my fave. Not only does it glistens but the design is simply amazing. It's also a Unisex watch so my husband tried it but since he doesn't fancy this much glitter, he's not interested in wearing them.
It's quite heavy actually for a woman with a small frame but perfect for my physique. Looks and feels like a real 24K gold watch and if you're someone who doesn't know how to distinguish one from the true and expensive signature watches, you'll think this charming wrist watch costs a fortune.
The rhinestones sparkle in the light and will surely make heads turn. Not something you will wear while walking in dark alleys, though, lol.
Can be worn either with casual clothes or formal attire. It's how you carry it that matters.
My dad's birthday is coming up, so I decided to give him the watch as a gift. He tried it while he was here at my house and you can check the 2nd inset photo above for a man's version.
This watch is a perfect gift for your loved ones. If you are in the market for something like this, you can check out the site and the wide variety of products Tmart has to offer. Huge discounts are available plus FREE SHIPPING WORLDWIDE!
I'm pretty sure you'll have an item or two in the checkout cart when you're done 🙂 Enjoy browsing and shopping!
Disclaimer: I received one or more of the products mentioned above for free. Some of the links in the post above are "affiliate links." This means if you click on the link and purchase the item, I will receive an affiliate commission. Regardless, I only recommend products or services I use personally or my family and friends and believe will be good for my readers.
This disclosure is done in accordance with the Federal Trade Commission 16 CFR, Part 255 Guides Concerning the Use of Endorsements and Testimonials in Advertising. For detailed Disclosure, kindly read it HERE.
For Questions, Review Opportunities or to be Featured on this blog, please Contact us at giveaways@eihdragatchalian.com or you may use our form here.

Hits: 220