Whether it's a day hike up Pico de Loro or a few days touring Angkor Wat in Cambodia, travel is always the perfect time for selfies. But any selfie won't do if you want to capture the grandeur of the great outdoors from atop a mountain, or those ancient ruins choked by overgrown banyan trees—with you included in the shot, of course.
Travel selfies are as much about the place as they are about you. Otherwise, you don't get to show proof of how awesome your vacation trip was, save for a souvenir shirt or some nasty sunburn. So rather than filling the entire shot with just your face, be sure to highlight the destination in your selfie.
With that said, here are a few other tips on capturing travel selfies that will be the envy of your IG followers:
Show some action
So you got a selfie with your face beside the Eiffel Tower. Cool, but not much in the way of excitement. Try doing something to make you look like you're having a great time, like spreading your arms wide to welcome yourself in Paris, or even eating ice cream.
Angle for personality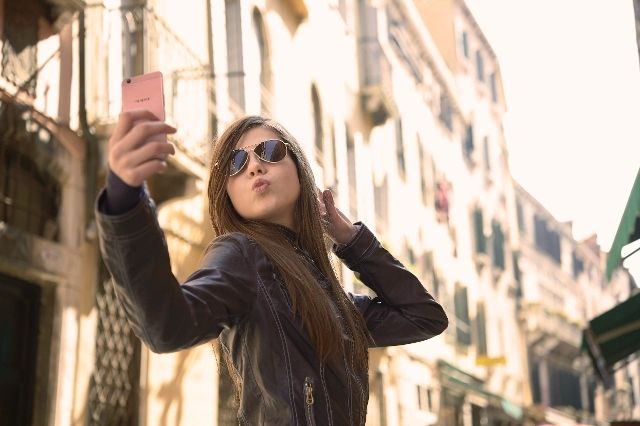 Your choice of angle can also give your selfie some character. If you're standing near the foot of a huge landmark like the Big Ben, you can go for a selfie angled from the bottom to capture the height of the monument.
Avoid cheesy tourist selfies
Please, none of those cheesy forced-perspective shots like giving the Sphinx or Christ the Redeemer a kiss, if you don't want to end up with a stock-photo-esque selfie.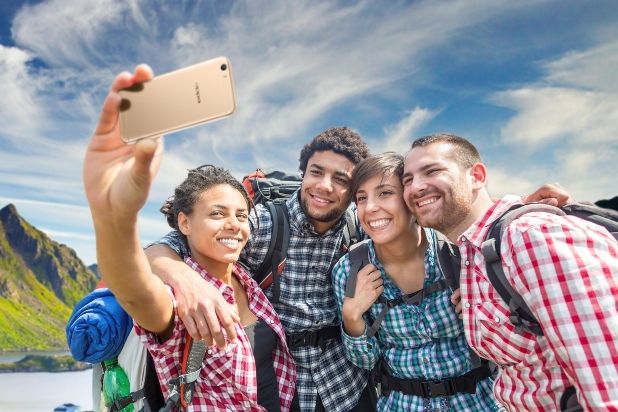 Selfies without a face?
Selfies don't always have to show your face. For a bit of drama, you can try taking selfies from the side or slightly behind your head. This works really well for outdoor selfies, like when you're looking out from a cliff or watching the sunset from the beach. To make this shot work, be sure to carry a selfie stick with you.
Tools of the trade
A selfie stick is a great companion whether you're traveling alone or with a group if you want to snap "groufies" with no problem. Another helpful buddy is a power bank.
Your camera phone is also another tool you'd want to consider. The OPPO F1s, for instance, comes with a panorama feature for wide-angle shots—great for groufies and selfies against a breathtaking backdrop. The palm-activated shutter also lets you make those quick selfies while you're touring around a city.
The anti-shake feature further prevents blurs even as you take selfies while walking, while the 16-megapixel front-facing camera is designed with a 1/3.1-inch sensor and f/2.0 aperture for very clear selfies despite low-light conditions.
Worried about running out of juice in the middle of a tour? OPPO's "selfie expert" takes care of that with a 3075mAh battery that lasts the whole day.
"One-of-a-kind moments deserve to be saved, especially if they happen in places we don't often get to go to," said OPPO Philippines Brand Marketing Manager Stephen Cheng. "That's the promise of the OPPO F1s. With hardware and software working to capture the perfect selfie, the F1s ensures great travel shots you'd like to keep and share with the people you love."
For the best camera phone to take on your next adventure, visit OPPO concept and retail stores nationwide.
Hits: 116