Last month, Goldilocks celebrated the National Cake Day and also launched their very first interactive smartphone app called the "Sweet Attack". Wanna guess how to play the game? It involves the Goldilocks 50th Anniversary cake logo and ants!!!
Here's how:
– Download the Goldilocks Sweet Attack App on Google Play
– Register/Sign Up
– Scan the Goldilocks 50th Anniversary cake logo
– Save the cake from being eaten by tons of ants in all sizes!
It's an easy-peasy game, all you have to do is tap the ants several times to kill them, more and faster taps for the bigger ones. You just need to protect the cake and not let the ants near it. But as the game progress, the challenge is to tap a lot faster coz there'll be wave of ants charging towards the cake! It's actually fun but eventually when you reach about 3K score, your fingers will soon get tired.

Goldilocks had a month long tournament for their Sweet Attack App where the top 3 scorers were announced per week. At the end of the month, all top 12 highest scorers joined a live tournament.
Tournament champion was determined via single elimination method in which a player is eliminated after losing a match to another player. The Top 3 players played against each other.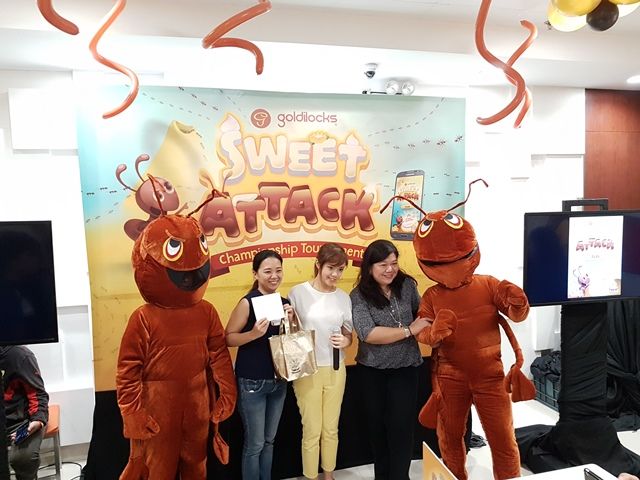 Ms. Joan Muhi, Goldilocks Sweet Attack live tournament champion
Prizes:
Top three (3) scorers from the live tournament will win the following prizes:
First prize: Php 5,000
Second prize: Php 3,000
Third prize: Php 2,000
Consolation: Nine (9) Php 1,000-worth of Goldilocks GCs
Hits: 125