It's never easy to promote healthy living as most people have been accustomed to just eat what they want, even though they know it's unhealthy. Some would only rethink their lifestyle when they get sick or have experienced a brush with death. That's why Generika Drugstore has been continuously and passionately campaigning through medical missions and related events.
They recently launched the Gabay Kalusugan – a series of community-centered events which aim to promote healthy living. Held in five locations across the country, it featured fun wellness activities that taught families the importance of taking care of the body to prevent disease.
Gabay Kalusugan was held in Biñan Laguna, Lower Bicutan, Batasan Hills Quezon City, Davao City, and Cebu City in one-day events between October 15 and November 26 2016. A concerted effort among Generika branches in each area, it served as an excellent venue for the community to share healthy morning meals while exploring the many wellness products on offer. Gabay Kalusugan brought the fun through Palarong Kalyesugan games for the kids, wellness workouts and energy dances for the grown-ups, and raffle draws for everyone in attendance.

Photo: Kids Enjoying Palarong Kalyesugan
The heart of the Gabay Kalusugan events is the Gabay Kalusugan talk – brief yet in-depth discussions on taking care of one's health. Generic medicines were among the key topics highlighted, serving as a way for attendees to better understand their benefits. Attendees are informed that generic drugs are as effective as their brand-name counterparts yet sold at an affordable price. They are also assured that all the generic medicines sold at Generika are duly registered with the Philippine Food and Drug Administration.
The issue of Anti-Microbial Resistance was another key topic in the Gabay Kalusugan talk. Anti-microbial resistance is a global health concern – as scientists have observed a disturbing trend: Bacteria and other pathogens have developed increased capacities to withstand and endure anti-microbial treatments. Examples include tougher strains of tuberculosis and sexually-transmitted diseases, those that require more potent medications to fully cure a patient. Generika speakers warn of pathogens that may become virtually untreatable because of the resistance they've developed. An easy way to curb the prevalence of resistant bacteria is through proper patient counselling, a service that every Generika outlet offers. By ensuring that every patient buying antibiotics fully understands how it works and when to take it, treatment plans are carried out as intended by the doctor – preventing bacteria from surviving that develop immunities to medicine.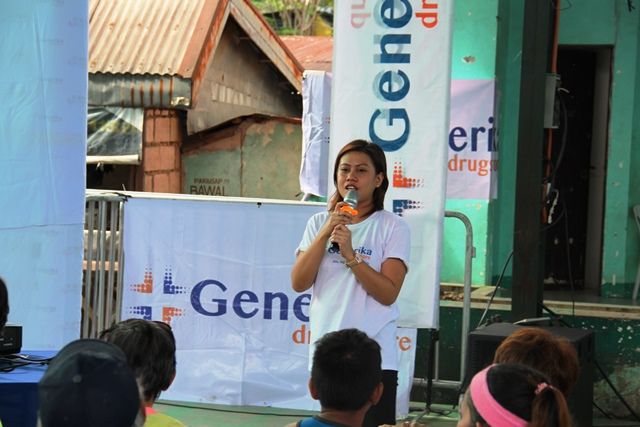 Photo: Maricris Aquino Delivering Gabay Kalusugan Talk
Gabay Kalusugan and Generika's medical missions are all part of Gabay Generika – the guiding philosophy that serves as the beating heart of Generika Drugstore. Through it, all Generika outlets become means for patients to not only buy the safe, quality, and affordable medicines they need but to receive help on how to better understand what they buy. Generika pharmacists counsel customers, giving tips and reminders on how to properly use their medications. The counseling is in addition to the Gamot Guide patients receive, the printed-out sheets that provide important dosage information, proper storage, and possible side effects of the medicine they bought. At Generika Drugstore, patients can avail of scheduled free consultations with doctors. Patients also have access to free blood pressure monitoring and affordable blood sugar tests.
To learn more about Generika Drugstore, simply visit http://www.generika.com.ph/ or like its Facebook page at https://www.facebook.com/Generika.com.ph.
Hits: 103