Kimberly-Clark's Huggies® brand, together with mom-and-daughter tandem Anne Curtis and baby Dahlia, have already made 2021 even more meaningful for Filipino families as they donated a total of 1,166 Secret sANNEta gift packs to moms and babies in need.
This remarkable gesture far exceeded the 1,000-donation goal set last December 2020 during the Huggies' Secret sANNEta Big Reveal; a Facebook Live event where Anne and baby Dahlia were formally welcomed to the Huggies family. It was also during this event that they introduced the special Buy 1, Get 1, Give 1 promo wherein every purchase of one (1) case of Huggies Dry Pants came bundled with one (1) Secret sANNEta gift pack that contained baby care essentials.
Huggies, in partnership with Anne and baby Dahlia, then promised to match every pack given and donate it to the partner hospitals of Anne's foundation. Each pack came included with one (1) pack of comfortable Huggies Dry Pants, one (1) pack of skin-loving Huggies wipes, two (2) packs of Kleenex Facial Tissues, one (1) roll of Kleenex bathroom tissue, and one (1) Hugsy teddy bear.
The 1,166 Secret sANNEta gift packs were distributed to families from the Philippine General Hospital and the Philippine Children's Medical Center.
Despite the challenges of the pandemic, Huggies continues to find ways to give comfort and care to moms and their babies, especially to those who need it the most. With Anne and baby Dahlia now joining them in this shared mission, they hope to continue providing moms and babies relief as they go through their motherhood journey during these challenging and uncertain times.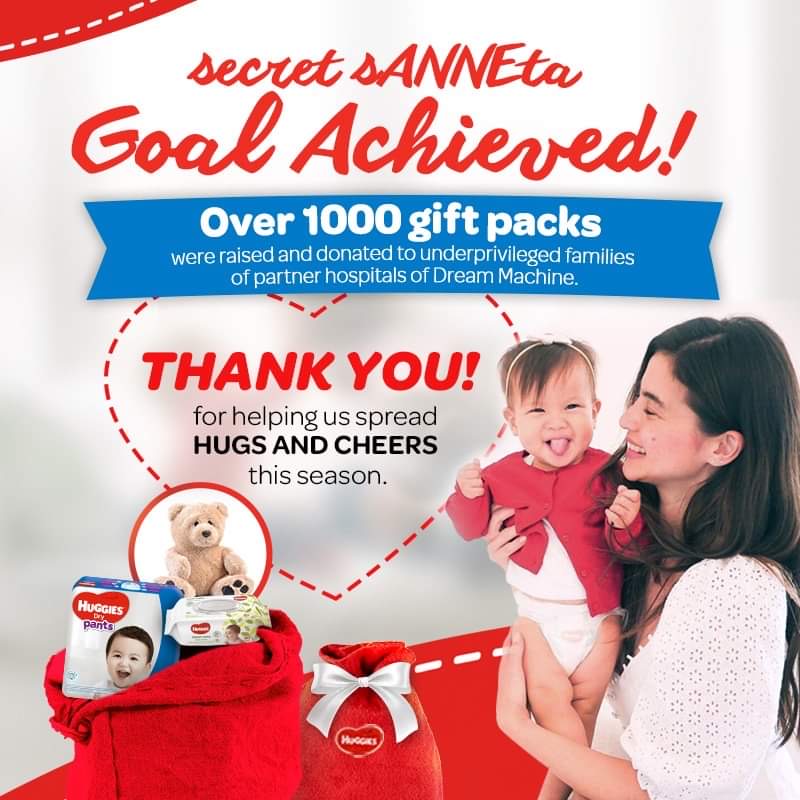 "As we are committed to being Filipinos' trusted parenthood partner now more than ever, we constantly seek to understand moms and babies' situation and support them in any way we can," shares Brian Duruin, Head of Marketing, Kimberly-Clark Philippines, Inc. "Celebrating the season of giving has never been more important for Huggies. It's a good start to an exciting new year, and we look forward to creating more initiatives and extend our comfort and care to moms and babies across the country."  
"We want to thank everyone who helped us achieve our 1,000 Secret sANNEta gift pack donation goal," adds Anne. "We are overwhelmed with all the love and support and hope that you continue to support us throughout the year. This is a collective endeavor that the beneficiaries will always remember."
To date, Huggies has donated over 200,000 newborn diaper packs to children's hospitals and maternity wards. They also launched the Huggies Club: Facebook Live, a five-week online forum series that aimed to guide and provide moms the reliable support system they need by connecting them to other moms and healthcare professionals to tackle relevant parenting topics and advice. With the Secret sANNEta gift pack donations, Huggies reaffirms its role and commitment to being the trusted parenthood partner for generations to come.
For the latest news and updates, follow the Huggies PH Facebook page or visit huggies.com.ph. Join the Huggies Club for free and get access to more parenting tips, as well as exclusive perks and deals!
Hits: 23