Watch out Adele fans! Her video for new single "Send My Love (To Your New Lover)" will be part of the 2016 Billboard Music Awards and will broadcast LIVE from Las Vegas on Monday, May 23 8am (7am JKT/ BKK) on RTL CBS Entertainment HD!
Billboard and Dick Clark Productions announced that the video for Adele's new single "Send My Love (To Your New Lover)," off her latest album 25 , will make its worldwide debut during the "2016 Billboard Music Awards." The video for the song, which was co-written with and produced by Max Martin & Shellback, was shot in London and directed by Patrick Daughters (Feist, Muse, Yeah Yeah Yeahs).
Adele is currently in the midst of a sold out tour in Europe, which runs through June 15th. As previously announced, Adele will headline this years Glastonbury Festival in the UK, from June 22-26.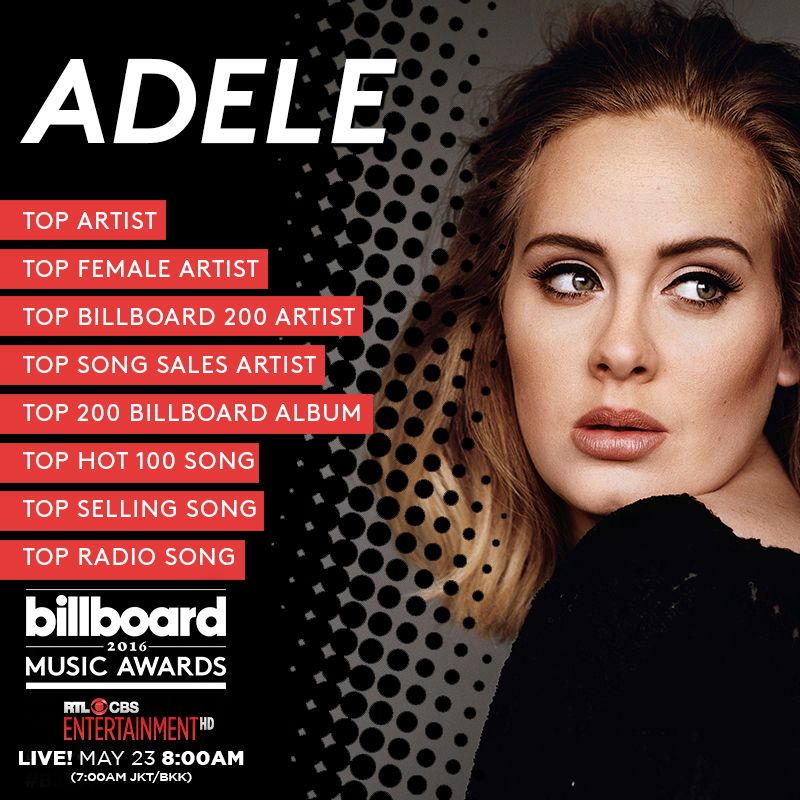 About Billboard
Billboard is the world's most influential music brand, built on the most complete and well- respected database of charts across all music genres. The Billboard charts define success in music. From the iconic Billboard magazine to Billboard.com, the ultimate consumer-facing destination for millions of passionate music fans, to the industry's most elite conference series and influencer events including the Power 100 and Women in Music
– the Billboard brand has unmatched authority among fans, artists and the industry alike. Billboard was named the leading U.S. brand on Twitter, surpassing the NFL, ESPN, BuzzFeed and MTV, with 7.5 million engaged actions in Q4 2015, and named an overall Top 10 U.S. Media Publisher in December 2015 with 11.8 million social actions. Billboard topped Shareablee's list of U.S. publishers by engagement on Twitter in Q4, ahead of brands including Bleacher Report, BuzzFeed and The New York Times. Billboard magazine has scored major news-generating covers recently including Nicki Minaj, Lana Del Rey, Selena Gomez and Justin Bieber.
About "2016 Billboard Music Awards"
The show will showcase this year's hottest and biggest music stars. Billboard Music Awards finalists are based on key fan interactions with music, including album and digital songs sales, radio airplay, streaming, touring and social engagement. These measurements are tracked year-round by Billboard and its data partners, including Nielsen Music and Next Big Sound. The awards are based on the reporting period of March 23, 2015 through March 17, 2016. The "2016 Billboard Music Awards" is produced by dick clark productions. Allen Shapiro, Mike Mahan, Mark Bracco, Barry Adelman and Robert Deaton are Executive Producers.
About RTL CBS Entertainment HD
Your destination for the best mix of reality, drama, comedy and daily entertainment. Featuring shows express from the U.S. and U.K. including top-rated dramas Limitless, Scorpion, House of Cards and Elementary; the biggest talent competitions in the world, America's Got Talent, Britain's Got Talent and The X Factor UK; dailies Entertainment Tonight, The Insider, The Late Show with Stephen Colbert and The Late Late Show with James Corden. It is home to some of the biggest award shows in the world aired 'LIVE,' including The Golden Globes, Screen Actors Guild Awards, Critics' Choice Awards, American Music Awards, People's Choice Awards and Billboard Music Awards.
Facebook: Facebook.com/RTLCBSEntertainment
Twitter: @RTLCBSEntertain

About RTL CBS Asia Entertainment Network
RTL CBS Asia Entertainment Network is a venture of two of the world's largest content producers: RTL Group, the leading European entertainment network, and CBS Studios International, the leading supplier of programming to the international market place. The Network has two channels: the general entertainment channel, RTL CBS Entertainment HD and the male-skewed entertainment channel, RTL CBS Extreme HD. Both channels are widely distributed in the Asia Pacific and are localized in five languages.
Hits: 170